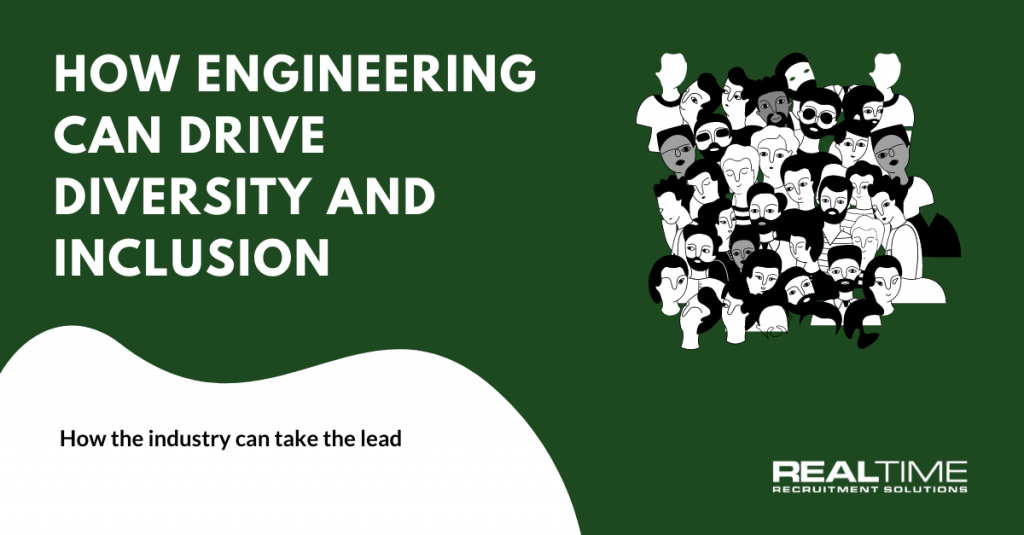 How the Engineering Industry Can Drive Diversity and Inclusion
Society is making strides when it comes to diversity and inclusion, so why is engineering one of the UK's largest industries dragging its feet? Only 12% of the engineering workforce is female and only 8.1% from an ethnic minority group, which for a sector employing 19% of the total UK workforce, is alarming.
Yet, all is not lost. Larger companies are leading the way in changing these statistics, being vocal about their diversity and inclusion initiatives, and awareness days, school activities and national media are all helping the cause. But rather than be one foot behind, we're interested in how the engineering sector, and specifically you, cannot just keep pace with diversity and inclusion but can lead it.
Why is an inclusive workforce so important in the engineering industry?
Morals aside, a diverse and inclusive workforce brings numerous benefits to engineering departments and companies across the UK and Europe.
Competitive advantage
Different cultures, experiences and insights bring different ideas, innovations and thinking to the table – driving competitiveness. According to INvolve, figures show that workplaces ranking high in diversity, achieve higher financial returns.
Talent
The skills crisis in engineering is rife, but talented engineers are out there, you just need to know where. Top engineering talent exists in the form of untouched and overlooked engineering candidate markets: women, ethnic minorities, people with disabilities and the LGBT community.
Skills
Many of RTRS' clients come to us yearning for soft skills in the form of openness, engagement, creativity and global awareness. Ultimately, skills that are in abundance in companies that actively recruit a diverse workforce.
Productivity
When the industry isn't talking about the skills crisis, it's talking about the productivity crisis. The UK has one of the lower rates of productivity. Yet, research from ACAS shows that fairness is one of the key drivers to productivity.
Attraction
Being an inclusive and equal engineering employer makes you highly attractive to engineering candidates across the UK and beyond. Forget high-paying salaries, table tennis tables and free breakfasts; the top candidates are attracted by visions and values that mimic their own.
How can we drive diversity and inclusion in engineering?
There is plenty that you can do to help drive diversity and inclusion in the engineering sector and in your business.
Get the board on board
To really drive equality in engineering, you need to get the board on board. Evidence from leading companies, such as Volvo, BAE Systems and Network Rail, showing that diversity is good for business, will give you the basis for a compelling business case. Add to that evidence that the skills shortage is high, productivity is low, and we're about to enter an industrial revolution that's relying on both of these qualities, then you'll have the board agreeing that it's all-hands-on-deck in no time.
Culture, not initiatives
While short-term wins can help drive diversity now, you'll need to create and embed a fully-inclusive culture to sustain it. This is achieved through inclusive policies (such as parental leave for same-sex couples and fair recruitment policies), practising what you preach, being vocal about what you're doing and encouraging employees to do the same (such as allowing time off for outreach activities in schools).
Training
Installing a culture of diversity and inclusion requires training for everyone. From the senior execs in how to appoint a leadership team without being influenced by unconscious biases, to the way that engineers communicate with each other. Regular diversity and inclusion training is critical and, while we're on the subject of training, having a fair and inclusive continued professional development policy is also a must.
Celebrate
Nothing drives diversity and inclusion more than celebrating the wins. Get involved in national recognition events, such as International Women in Engineering Day, #LGBTinSTEM day and the Year of Engineering. Celebrate and promote role models in your own business, to raise the profile of engineering as a career choice for anyone, and be proud of your inclusive culture by promoting it on your website, social media and in person.
Hire the right people
Want to increase diversity in your business but only get male engineers applying for your vacancies? As a specialist engineering recruitment agency, we focus on talent, which means that our database is filled with talented engineers regardless of sex, age, disability, ethnicity or sexual orientation.
Get in touch
Speak to an engineering recruitment consultant from RTRS today to begin your inclusive recruitment journey.