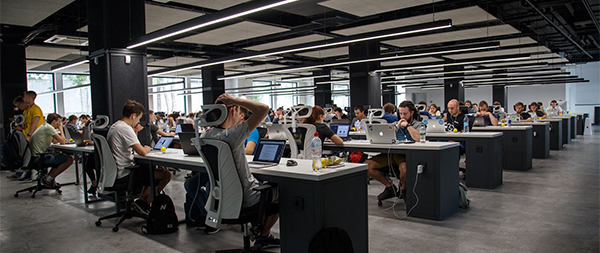 2018's Most In-Demand Skills for Engineers (They're Softer Than You Think!)
Maths, science, design, technical – these are all hard skills that are regularly associated with engineering. But, at RTRS, we're seeing soft skills play an increasingly important role in identifying the best candidates for the top engineering positions.
The Institute of Technology's 2017 survey found that 21% of engineering practices find external candidates do not possess the required non-technical skills, whilst 19% find that even their existing workforces do not demonstrate soft skills. Soft skills are hot, in-demand and vital to a successful career in engineering, so why aren't we shouting about them?
At RTRS, we work with you to identify and demonstrate the most in-demand soft skills for 2018, which are:
1. Communication skills
Communication is a vital, yet often overlooked, skill for engineers. Sure, everyone can communicate – but can you do it effectively? Candidates demonstrating their ability to engage multiple stakeholders and convey ideas and plans clearly and persuasively, rarely fail to impress at interview. Listening is equally as important as speaking and writing, and the ability to communicate well virtually (i.e. via Skype) is increasingly relevant. This is a skill that hiring managers will assess throughout the recruitment process, making a well-polished CV and confident interview technique all the more important.
2. Interpersonal skills
Successful engineers work well in multi-disciplined teams, producing collaborative ideas and great working relationships. Employers want to know that you will thrive in this type of environment, successfully interacting with everyone, including customers, colleagues and managers, to achieve results. You'll need to demonstrate that you're personable and influential.
In the words of the National Academy of Engineering, "understanding the particular wants and needs of a customer, and… explaining and justifying the final design solution" is essential for effective collaboration.
3. Creative problem-solving
According to the National Academy of Engineering, analytical and creative problem-solving skills are still highly regarded and sought-after attributes in engineering candidates. Creativity and curiosity are integral to the design engineering process, and businesses are searching for candidates who critically analyse problems, producing innovative solutions and impactful results. These skills give businesses a competitive edge, and competency-based interviews are an increasingly common way to test your problem-solving abilities. Prepare examples of how you demonstrate this sought-after skill to showcase at interviews.
4. Leadership
In our recent blog, we highlighted the tell-tale signs that you're ready for an engineering promotion. Candidates demonstrating the potential for future career progression, through strong leadership skills, perform brilliantly in interviews. Panels look for proactivity and forward-thinking people skills, as well as a positive attitude. Tailor your CV and interview examples to demonstrate your enthusiasm for responsibility, teamwork and personal development, and be sure to ask about progression opportunities at your interview.
5. Continuous improvement
Engineering is at the forefront of technology and change, which is why flexibility, agility and adaptability are skills you must demonstrate. Provide examples of how you have improved efficiency, embraced new technologies and championed change, both within business and personally; a dedication to continuous learning is a highly attractive candidate quality.
Technical skills and abilities will always be integral to your next engineering position, but soft skills are the cherry on the cake that will set you apart from your competition. Plus, as technology increasingly takes over the engineering world, differentiating yourself as someone able to connect, build relationships, communicate and not require batteries(!) may be more important than ever.