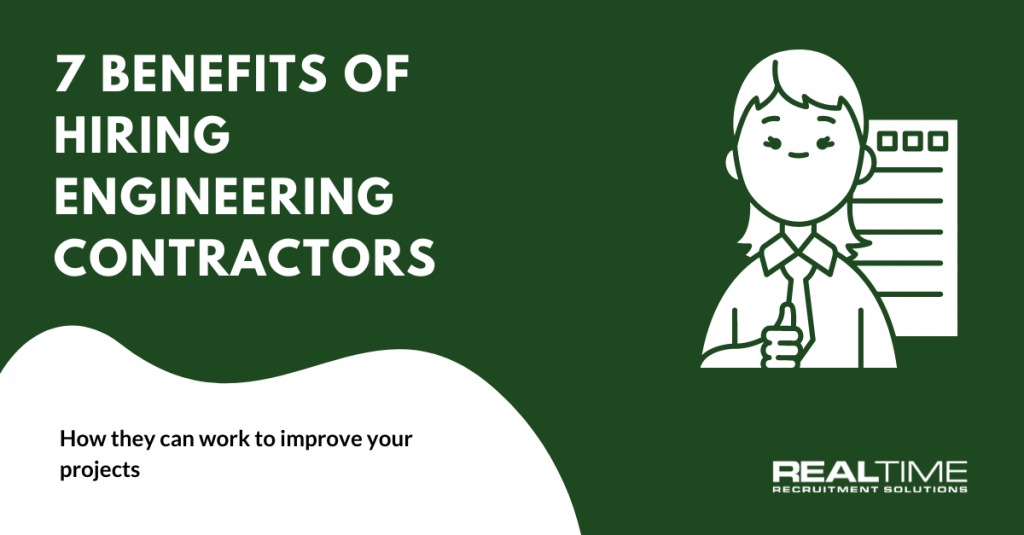 7 Benefits of Hiring Engineering Contractors
Finding the right candidate for your business needs doesn't necessarily mean a full-time, permanent employee. With over 55,000 engineering contractors in the UK, hiring short-term resources, without the long-term commitment, is becoming an increasingly popular way to recruit. Here's why:
1. Flexibility
Contractors provide you with the ability to increase your resources during peak periods, without the need to worry about redundancies and cost-cutting during quieter times. This flexibility is great for businesses with seasonal variations in workload to carry out project work, or companies with the need to cover a staff shortage quickly.
2. Specific talent for specific projects
Short-term projects often require specific skills, abilities and expertise, that may not be widely available in your business. Contractors enable you to hire the exact qualities needed, without the worry of how you will use these talents in the future. Our extensive database of contractors means that we can quickly match your skill requirements to the perfect candidate.
3. Speed
Contractors are generally available immediately, meaning that you don't have to go through a lengthy recruitment and offer process, only to learn about a three-month notice period. Contractors are also ready and raring to go, with no need for a long induction process or training programme. We bring in contractors fast and have even been known to place people within a couple of days.
4. Cost-effective
Despite a reputation for being expensive, contractors can work out cheaper. Full-time employee benefits, such as PMI, life assurance and bonuses, are not applicable, and the cost of hire can often fall under the specific project budget, rather than personnel headcount. The experience and skills of contractors also mean that they can complete your project quickly and to budget – providing you with further cost savings.
5. Project management
Contractors are experienced at coming in, delivering and leaving quietly. They have extensive project management skills and, without the day-to-day distractions of a permanent role, they can deliver your projects on time, to budget and to expectations. We can provide you with details of large projects completed by our database of contractors so you can pick the right project skills for your requirements.
6. Skills and experience
Contractors have worked in a variety of engineering roles, businesses and, sometimes, sectors. They also come with specialisms in particular skills. These experiences and skills bring enormous benefit to your business, in the way of new perspectives, fresh ideas and the upskilling of your current workforce. We screen all of our contractors to fully understand their experience and skills, so that we can advise on how they can best help you.
7. Network
Once your contractor has delivered your project, you still have the option to extend their contract, use them again or even offer them a permanent role. Again, this makes you much more flexible in meeting immediate demands, requirements and projects.
Get in touch
At RTRS, we have extensive experience in placing skilled contractor engineers into the right project at the right time. We work closely with you to understand your specific needs and requirements to find you the perfect contractor.